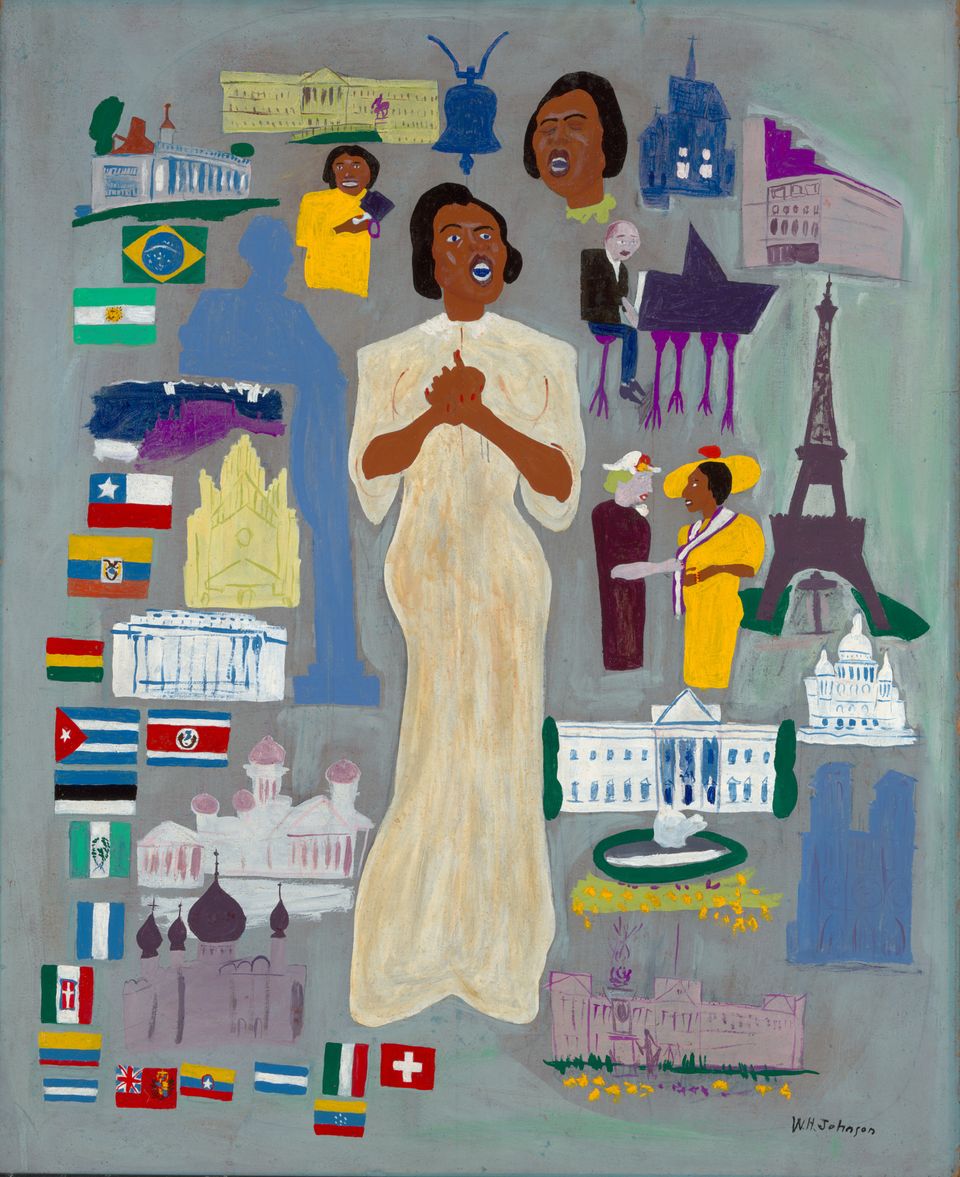 Copied
William H. Johnson,
Marian Anderson
, ca. 1945, oil on paperboard,
35
5
⁄
8
x
28
7
⁄
8
in. (
90
.
4
x
73
.
2
cm.), Smithsonian American Art Museum, Gift of the Harmon Foundation, 1967.59.657
Title

Marian Anderson

Artist

Dimensions

35

5

⁄

8

x

28

7

⁄

8

in. (

90

.

4

x

73

.

2

cm.)

Credit Line

Gift of the Harmon Foundation

Mediums

Mediums Description

oil on paperboard

Classifications

Keywords

Architecture Exterior — civic — Eiffel Tower
Architecture Exterior — civic — White House
Object — other — flag
Performing arts — music — voice
Portrait female — Roosevelt, Eleanor
Architecture Exterior — civic — Lincoln Memorial
Portrait female — Anderson, Marian — full length
Architecture — religious — church

Object Number

1967.59.657
In 1939 Marian Anderson (1897--1993)--an internationally acclaimed contralto renowned for her renditions of operatic arias, spirituals, and Gospel music--was barred by the Daughters of the American Revolution from performing at Washington, D.C.'s Constitution Hall because of her race. First Lady Eleanor Roosevelt protested, as did the NAACP, the Brotherhood of Sleeping Car Porters, the American Federation of Labor, and other national organizations. Within weeks the Secretary of the Interior invited Anderson to sing on the steps of the Lincoln Memorial. She was initially reluctant: "I said yes, but the yes did not come easily or quickly. ... As I thought further, I could see that my significance as an individual was small in this affair. I had become, whether I liked it or not, a symbol, representing my people." Attendance at the concert justified her decision. More than seventy-five thousand people, most of them African American, came to hear her perform; millions more listened on the radio.
Johnson painted at least three portraits of Anderson. Two show her standing in front of the Lincoln Memorial. In this, the third, she is surrounded by evidence of her international fame. Brazilian, Chilean, Ecuadorean, and other flags represent her 1937 to 1939 concert tour of South America. The Eiffel Tower in Paris, St. Basil's Cathedral in Moscow, St. Peter's in Rome, and other monuments track her popularity across Europe and Scandinavia. Johnson also honored Anderson's long-time vocal coach Kosti Vehanen, who is seated at a grand piano.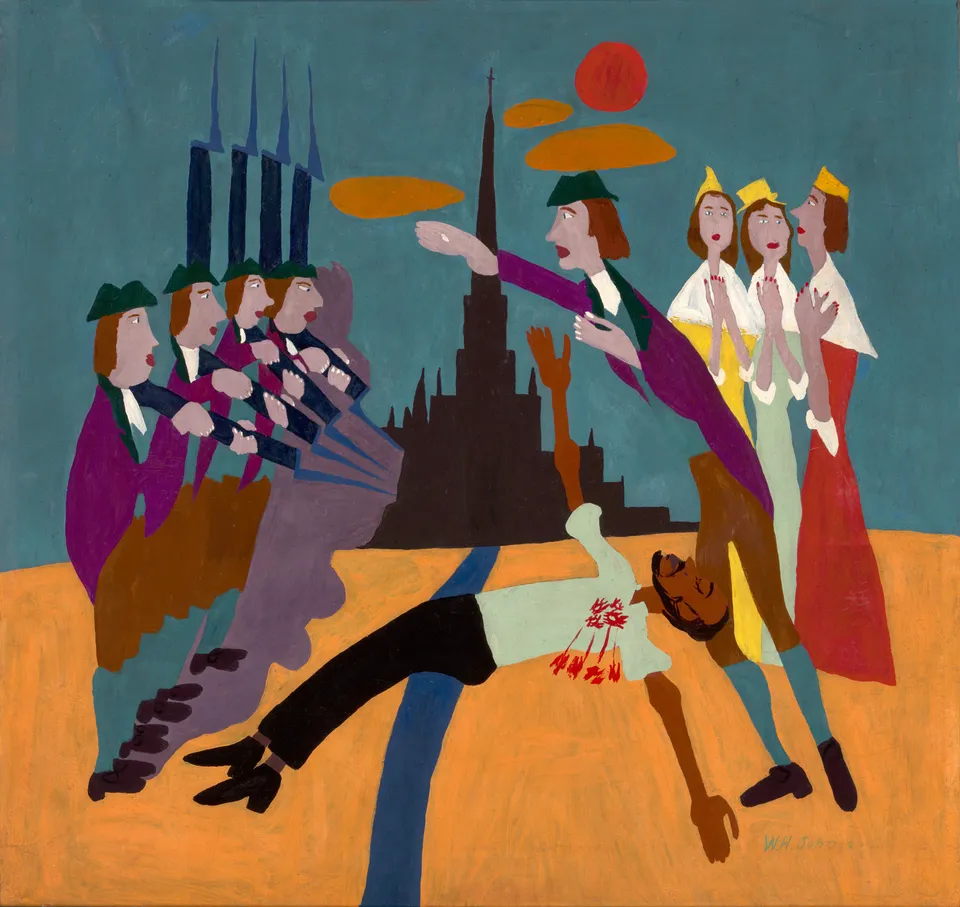 March 8, 2024
–
September 8, 2024
William H. Johnson's Fighters for Freedom series from the mid-1940s is a tribute to African American activists, scientists, teachers, and performers as well as international heads of state working to bring peace to the world. The exhibition Fighters for Freedom: William H. Johnson Picturing Justice is drawn entirely from the collection of more than 1,000 works by William H. Johnson given to the Smithsonian American Art Museum by the Harmon Foundation in 1967 and reminds us that individual achievement and commitment to social justice are at the heart of the American story.