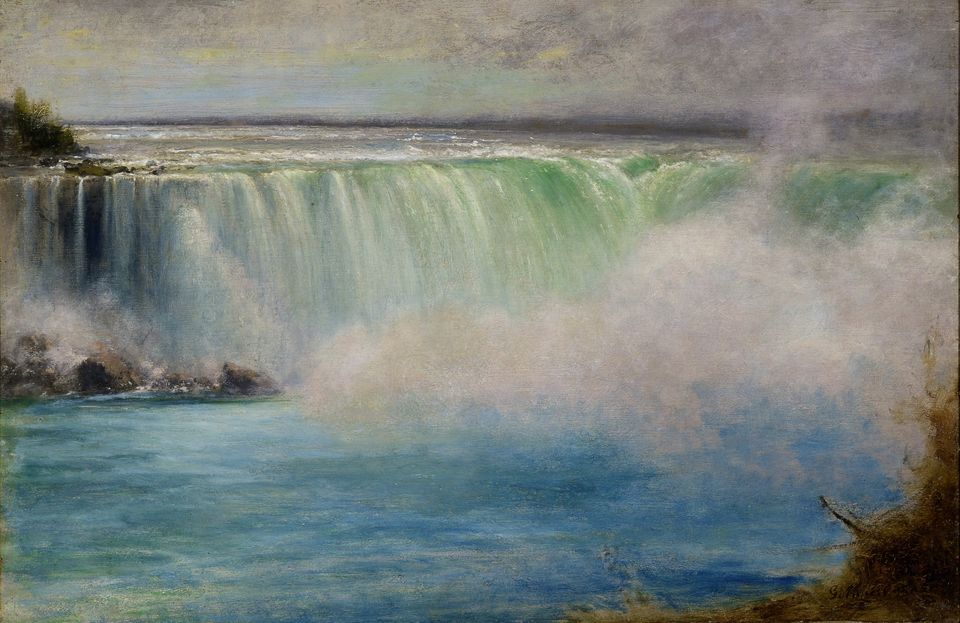 Copied
George Inness,
Niagara Falls
, 1885, oil on wood, Smithsonian American Art Museum, Gift of John Gellatly, 1929.6.67
Title

Niagara Falls

Artist

Location

Dimensions

15

7

⁄

8

x

24

in. (

40

.

2

x

60

.

9

cm.)

Credit Line

Gift of John Gellatly

Mediums

Mediums Description

oil on wood

Classifications

Keywords

Landscape — waterfall — Niagara Falls

Object Number

1929.6.67
Niagara Falls is one of the most frequently painted and photographed landscapes in the United States. George Inness produced seven oil paintings of the falls during the 1880s and 1890s, more than he made of any other area at that time. By 1895, the area around Niagara Falls had become commercialized with many hotels, souvenir shops, and attractions. Inness wanted to reclaim the natural "terror and awe" of the falls, and so obliterated all evidence of bridges, hotels, and signs in his paintings.
Luce Object Quote
"The true purpose of a painter is simply to reproduce in other minds the impression which a scene has made upon him." George Inness, quoted in Alfred Werner,
Inness Landscapes
, 1973