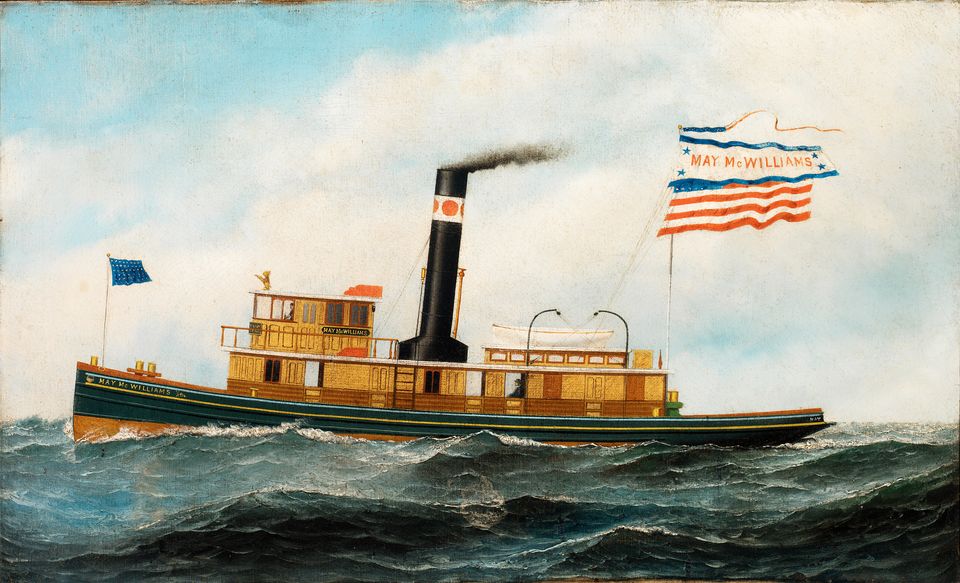 Copied
Antonio Jacobsen,
The Ocean-Going Tug "May McWilliams"
, ca. 1895, oil on canvas, Smithsonian American Art Museum, Museum purchase, 1966.83
Title

The Ocean-Going Tug ​

"

May McWilliams"

Artist

Location

Dimensions

22

1

⁄

8

x

36

1

⁄

8

in. (

56

.

2

x

91

.

6

cm.)

Credit Line

Museum purchase

Mediums

Mediums Description

oil on canvas

Classifications

Keywords

Architecture — boat — May McWilliams
Waterscape — sea
Travel — water — tugboat

Object Number

1966.83
Antonio Jacobsen spent his free time at New York's harbor and along the Hudson River, painting pictures of vessels as small as tugboats and as large as transatlantic liners. A close look at this painting of the tugboat May McWilliams shows the captain in the top cabin at the front of the vessel and a single passenger at the rear. Harbor captains used tugboats as early as the 1700s to escort larger ships through narrow or complicated passages.