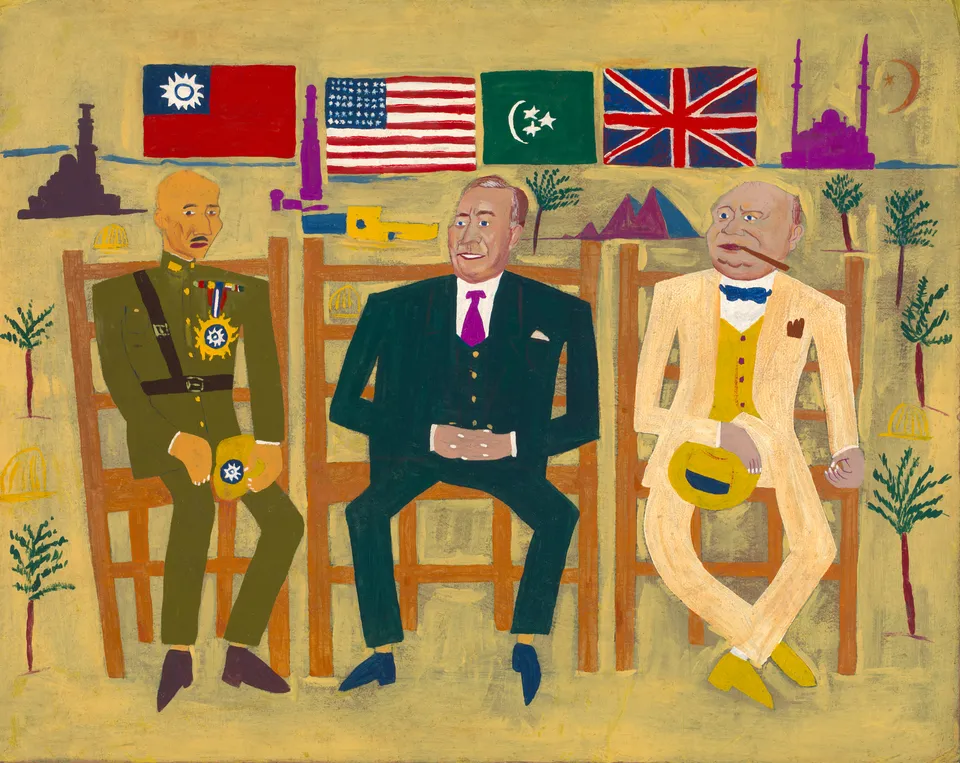 Copied
William H. Johnson,
Three Allies in Cairo
, ca. 1945, oil on paperboard, Smithsonian American Art Museum, Gift of the Harmon Foundation, 1967.59.663
Title

Three Allies in Cairo

Artist

Dimensions

28

5

⁄

8

x

36

1

⁄

2

in. (

72

.

7

x

92

.

7

cm.)

Credit Line

Gift of the Harmon Foundation

Mediums

Mediums Description

oil on paperboard

Classifications

Keywords

Figure group — male
Portrait male — Churchill, Winston — full length
Portrait male — Roosevelt, Franklin Delano — full length
Object — other — flag
History — United States — World War

II

Portrait male — Chiang Kai-shek — full length

Object Number

1967.59.663
Johnson copied a photograph from Life magazine to commemorate the historic meeting between U.S. President Franklin Roosevelt (center), Chinese Generalissimo Chiang Kai-shek (left), and British Prime Minister Winston Churchill (right) in Cairo in November 1943. Palm trees and pyramids identify the location, as does the green Egyptian flag at the top edge of the painting.
Roosevelt had multiple goals when he invited the Chinese leader and British prime minister to meet. He wanted to confirm U.S. support for China and sketch out a vision for the postwar future in which a world power in each major region of the globe would keep peace. In a photo op following the meeting, the three heads of state issued a press release that confirmed China's status as one of the four allied Great Powers.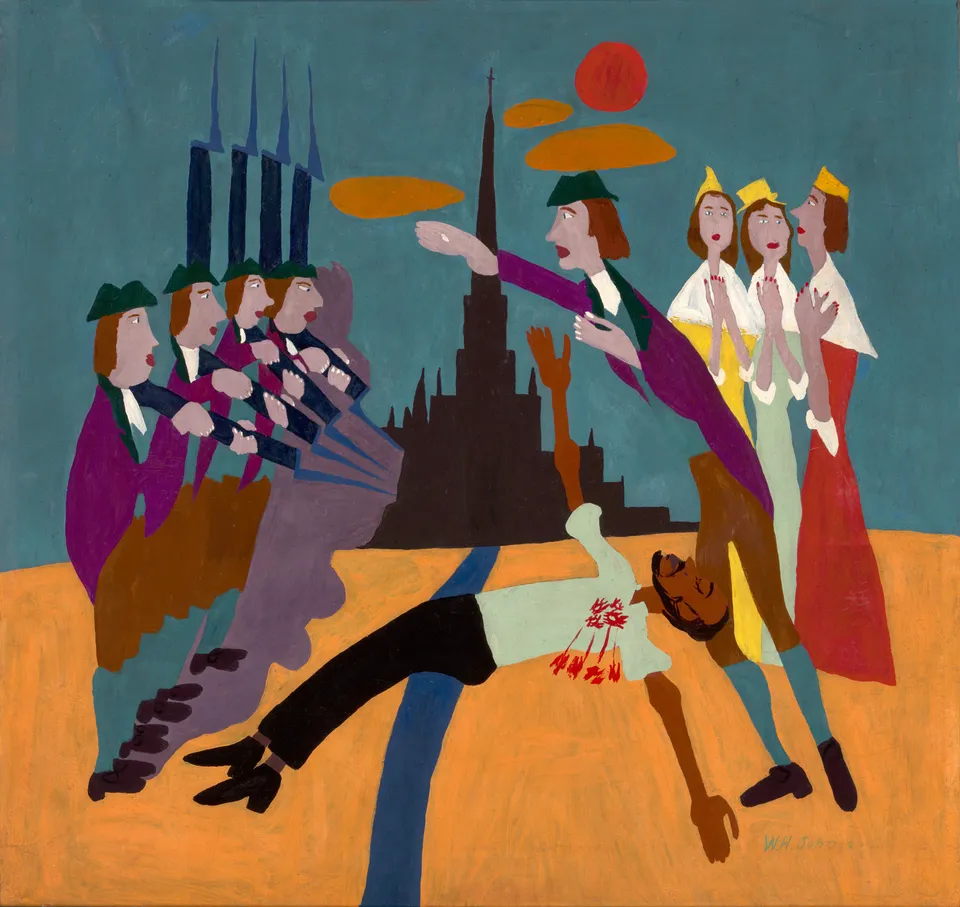 October 13, 2023
–
February 25, 2024
William H. Johnson's Fighters for Freedom series from the mid-1940s is a tribute to African American activists, scientists, teachers, and performers as well as international heads of state working to bring peace to the world. The exhibition Fighters for Freedom: William H. Johnson Picturing Justice is drawn entirely from the collection of more than 1,000 works by William H. Johnson given to the Smithsonian American Art Museum by the Harmon Foundation in 1967 and reminds us that individual achievement and commitment to social justice are at the heart of the American story.