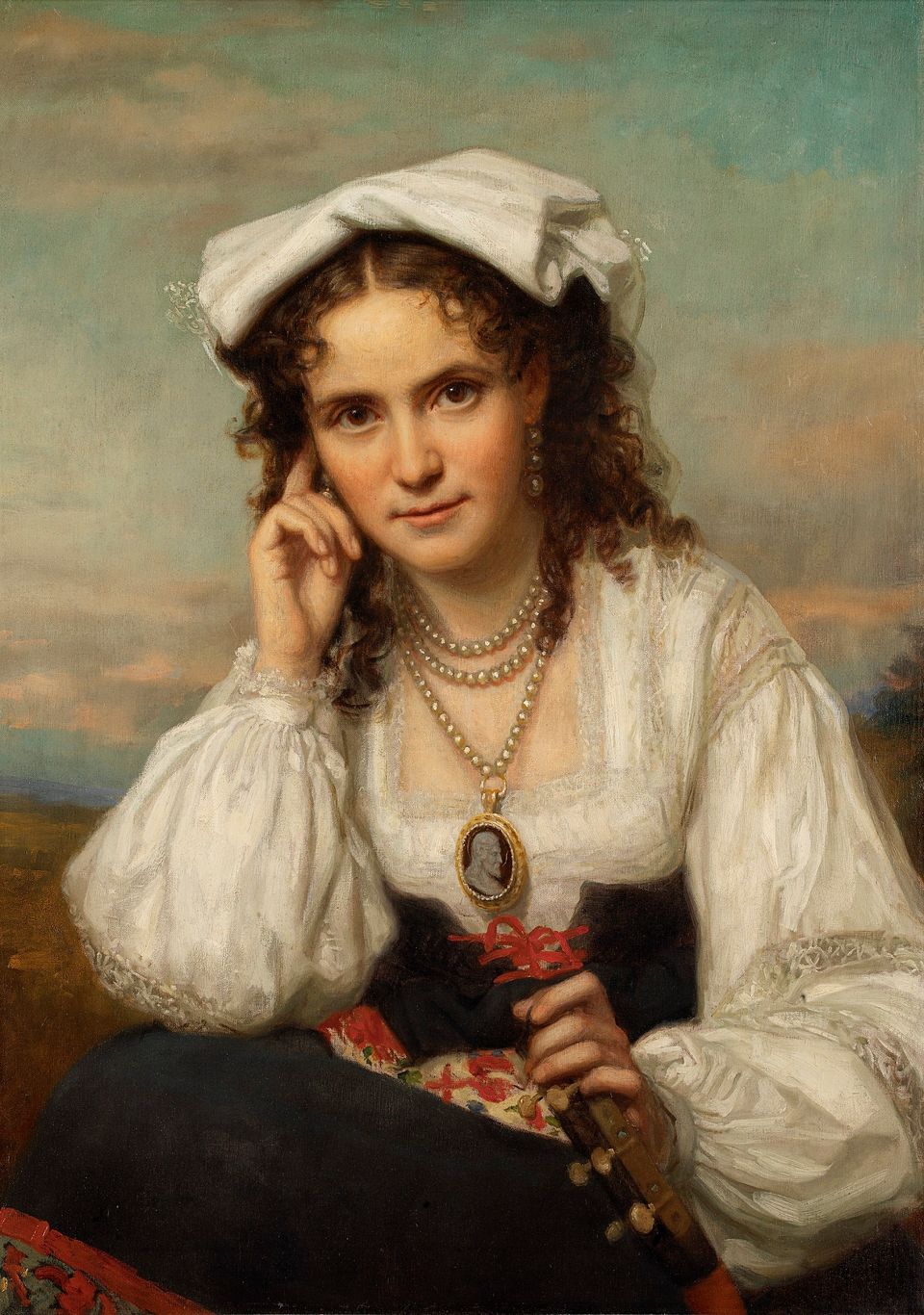 Copied
George Peter Alexander Healy,
Vinnie Ream
, ca. 1870, oil on canvas,
31
3
⁄
8
x
22
3
⁄
8
in. (
79
.
7
x
56
.
8
cm) , Smithsonian American Art Museum, Gift of Brigadier General Richard L. Hoxie, 1917.11.1
Title

Vinnie Ream

Artist

Dimensions

31

3

⁄

8

x

22

3

⁄

8

in. (

79

.

7

x

56

.

8

cm)

Credit Line

Gift of Brigadier General Richard L. Hoxie

Mediums

Mediums Description

oil on canvas

Classifications

Keywords

Portrait female — Ream, Vinnie
Dress — accessory — jewelry

Object Number

1917.11.1
The American sculptor Vinnie Ream (1847-1914) and George Healy met in Rome in the early 1870s when Ream visited Italy to oversee the carving of her full-length statue of Abraham Lincoln for the U.S. Capitol Building. Ream was the first woman, and the youngest artist, ever to receive a congressional commission for the Capitol Rotunda, in part because Lincoln had recently sat for a portrait bust by her when she was only sixteen years old.
This painting shows Ream dressed in a way popular with tourists to Italy at the time, as an 'Alban maid' from the hills outside Rome, and with a guitar, indicating another of her artistic talents. Like many professional sculptors of the day, Ream spent time in Rome studying classical art and taking advantage of the excellent marble quarries and skilled artisans available in Italy. The American Art Museum also holds Ream's statue of Sappho from the same period, a replica of which stands atop the grave in Arlington Cemetery dedicated to her and her husband, Brigadier General Richard L. Hoxie. In 1875, Ream received a second congressional commission, to create the monument to Civil War admiral David G. Farragut, of "Damn the torpedoes! Full speed ahead!" fame, for Farragut Square in Washington, D.C. She is now represented in the U.S. Capitol by two further statues: Samuel Jordan Kirkwood, abolitionist governor and senator from Iowa, and Sequoya, the Native American who devised the written alphabet of the Cherokee language.
Luce Object Quote
"I have worked in my studio not envying kings in their splendor; my mind to me was my kingdom and my work more than diamonds and rubies." Vinnie Ream, from an address given to the International Council of Women, 1909, quoted in Hall,
Vinnie Ream: The Story of the Girl Who Sculptured Lincoln
, 1963