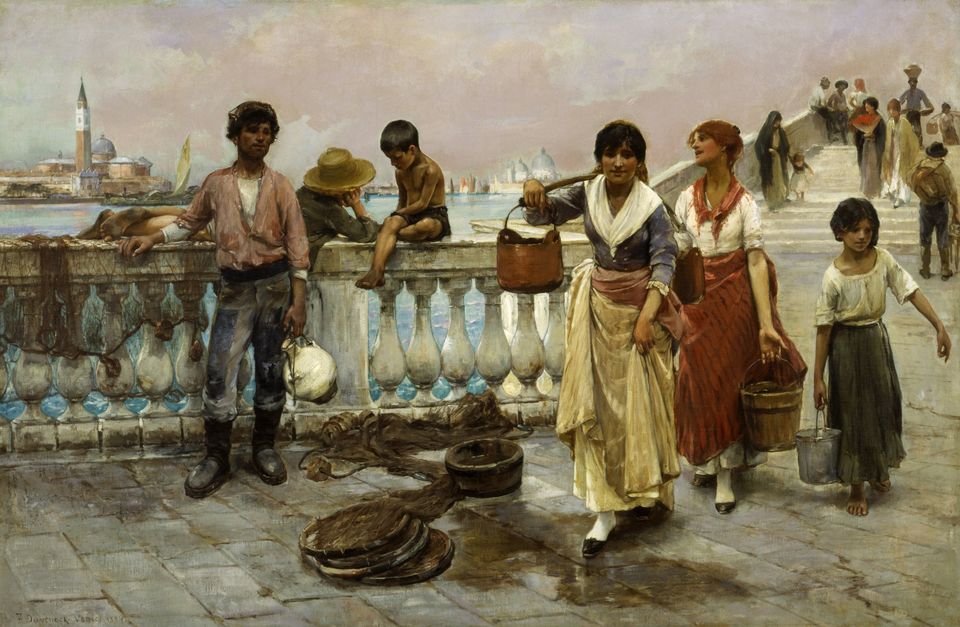 Copied
Frank Duveneck,
Water Carriers, Venice
, 1884, oil on canvas,
48
3
⁄
8
x
73
1
⁄
8
in. (
122
.
8
x
185
.
7
cm.), Smithsonian American Art Museum, Bequest of Reverend F. Ward Denys, 1943.11.1
Title

Water Carriers, Venice

Artist

Dimensions

48

3

⁄

8

x

73

1

⁄

8

in. (

122

.

8

x

185

.

7

cm.)

Credit Line

Bequest of Reverend F. Ward Denys

Mediums

Mediums Description

oil on canvas

Classifications

Keywords

Waterscape — canal — Grand Canal
Occupation — domestic — water carrier
Architecture — bridge
Cityscape — Italy — Venice
Figure group

Object Number

1943.11.1
Welcome to modern Venice, a living city where local fishermen and families proudly perform their everyday chores, like fetching fresh water from communal cisterns, against a magnificent maritime backdrop. You stand on the Riva degli Schiavoni, the waterfront promenade adjacent to St. Mark's Basilica, the Ducal Palace, and other renowned attractions, but this is not a pristine, souvenir-style view of famous monuments. It recognizes instead the economic reality of Italy in the late nineteenth century, when the newly self-governing nation was in the midst of a dramatic transformation to greater economic productivity. The dragging shoulder of the young girl on the far right signals the contributions of all ages to this recovery and growth. These children are dreamers and workers, poised to restore Venice's leadership in trade, manufacturing, and the visual arts.
Sargent, Whistler, and Venetian Glass: American Artists and the Magic of Murano, 2021.