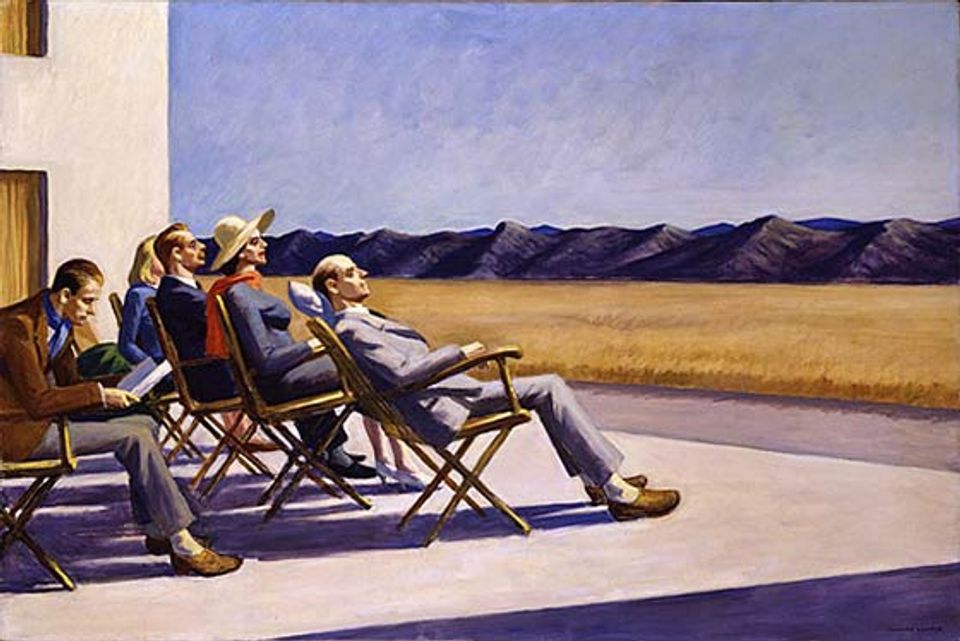 Edward Hopper's People in the Sun
Time magazine art critic Richard Lacayo spoke the other evening on the work and lives of aging artists as the second speaker in this year's Clarice Smith Distinguished Lectures in American Art. In a lecture entitled, "Hurry Up Please It's Time: Artists in Their Later Years," Lacayo focused on the themes and techniques that mark an older artist's output: "how their art changed as they entered that period of life, how they used those years to distill and intensify certain aspects of their art, and how they used it as an opportunity to come to terms with mortality and end of life issues, and to report to us what they had learned."
Do artists in their later years exhibit what art historian Kenneth Clark referred to in 1970 as a "transcendent pessimism"? Focusing on works created by Titian, Matisse, and Hopper after the age of seventy, Lacayo makes a case for a creative efflorescence, finding in each artist's work, an affirmation of discoveries worked out over the course of a lifetime. For Titian, it was his use of pigment and "whiplash brush stroke," for Matisse it was the color in his "ecstatic cut-paper work," and for Hopper, the palpable light that can illuminate even the darkest moments.
Perhaps the most memorable quote of the evening belonged to the Japanese artist Hokusai, painter of the iconic The Great Wave Off Kanagawa (better known as just The Great Wave) who said, "All I have produced before the age of seventy is not worth taking into account. At seventy-three I have learned a little about the real structure of nature. When I am eighty I shall have made still more progress. At ninety, I shall penetrate the mystery of things. At one hundred I shall have reached a marvelous stage, and when I am one-hundred-ten everything I do, whether it be a dot or a line, will be alive." Hokusai lived to be eight-nine, producing much of his memorable work in his last decades.
The evening ended with an image of Sun in an Empty Room, one of Hopper's last paintings, an interior with two shafts of light, perhaps an elegiac representation of Hopper and his wife Jo, nearing the end of their lives. When asked late in life what he was searching for in his work, Hopper replied, "I'm after me." Perhaps, in thinking back to what Kenneth Clark said, one person may see a transcendent pessimism in this work, but is it possible that what's emerging from the painting is a kind of optimistic transcendence?
If you missed Lacayo's talk watch our webcast. And join us on November 20th for the third and final Clarice Smith lecture, when Barbara Haskell, scholar and curator at the Whitney Museum of Art, delivers her talk, "Robert Indiana: His Art and its Shifting Reception."