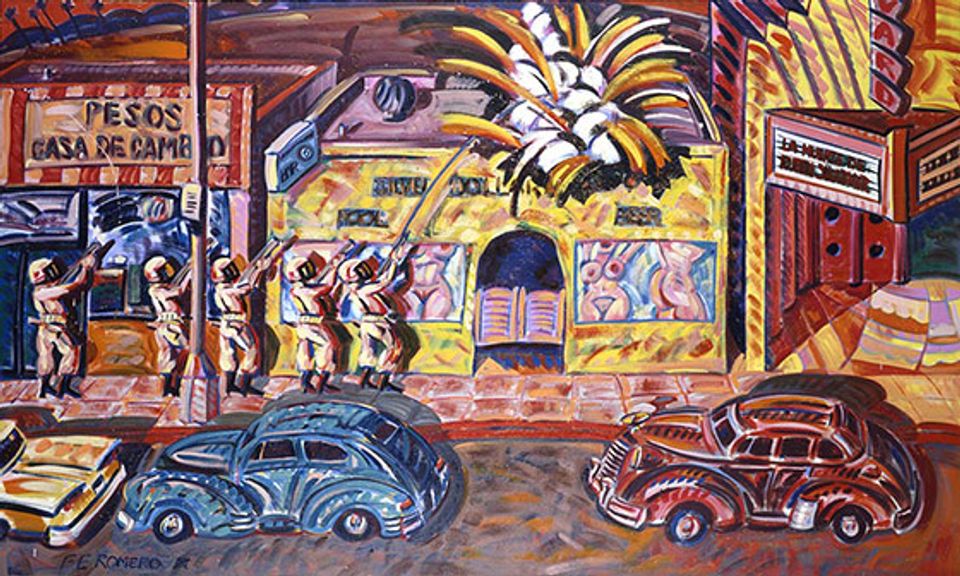 Death of Rubén Salazar by Frank Romero
We've been really busy getting everything ready and are excited to announce that the exhibition Our America: The Latino Presence in American Art opens today! This exhibition captures the aesthetic richness of Latino art in the United States since 1950. It presents 92 works by 72 artists who participated in key art movements including abstract expressionism, are pioneers in activist, conceptual, and performance art, and reinterpret classic American subjects like landscape, portraiture, and scenes of everyday life.
In a video series, curator E. Carmen Ramos explains that the mid-twentieth century was an important period in Latino art. At this time, Latino artists were attending art schools in this country and were beginning to contest their marginalized position within American society. The exhibition includes examples of socially engaged art like Frank Romero's Death of Rubén Salazar, avant-garde works with themes drawn from Latino history and experience, such as Maria's Great Expedition by Christina Fernandez, and works by artists who were pioneers in the modern art movements of abstract expressionism, minimalism, and performance art. Many of the works on view are recent acquisitions by the American Art Museum, including Teresita Fernández's Nocturnal (Horizon Line) and Humanscape 62 by Melesio "Mel" Casas, both of which Carmen discusses in her video series.
To coincide with the opening of Our America, our website offers extended information about the themes and artworks in the exhibition. We have also started an audio podcast series that will feature a variety of scholars and artists talking about the works on view. Our America: The Latino Presence in American Art will be on view at the American Art Museum through March 2, 2014, then will begin a national tour.