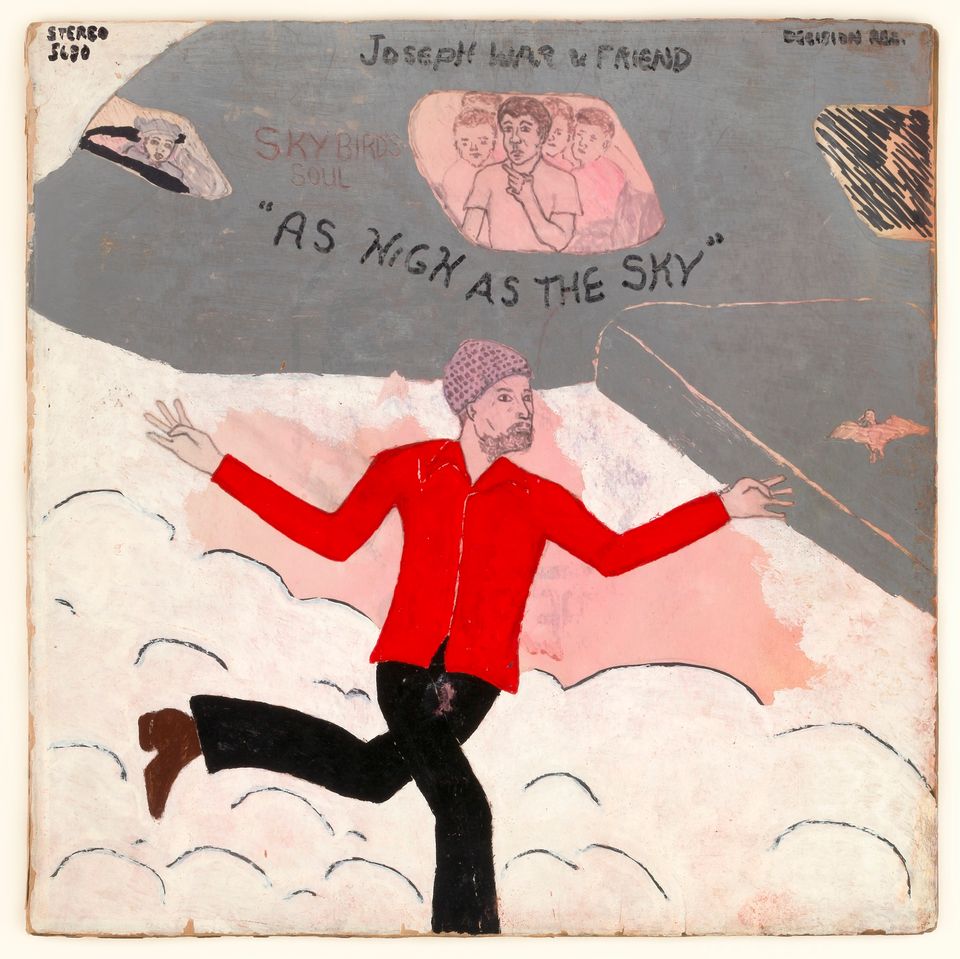 Eye Level had a chance to speak with Leslie Umberger, curator of folk and self-taught art, about the museum's recent acquisition of the Mingering Mike collection, comprised of well over one hundred pieces of musical ephemera made between 1965 and 1979 by a self-taught Washington, D.C. artist who has consistently chosen to conceal his true identity. The collection consists of "vinyl" LP albums (made from painted cardboard), original album art, song lyrics and liner notes, 45 rpm singles, and more pertaining to the artist's youthful fantasy of being a famous soul singer and songwriter.
Eye Level: I realize that categories can be limiting, but where does Mingering Mike, who had no formal training in either art or music, fit in when you talk about self-taught, folk, outsider, or naive art?
Leslie Umberger: I would describe Mingering Mike as self-taught; he learned through his own creative exploration rather than from what someone taught him to do. He took inspiration from his life and the culture around him. Through a body of work that develops over approximately a decade, one can follow his growth as an artist and as a person as well as the changing times he experienced.
EL: Tell me something about how the collection was lost...then found.
LU: When he grew older and the business of life disrupted his artistic pursuits, Mingering Mike put his body of work into storage. Due to some neglected rent payments on the unit, the work was auctioned off and he never saw it again. That is, until Dori Hadar arrived on Mingering Mike's doorstep one day—over twenty years later—asking him if was the artist. Hadar, looking for actual vintage records at a D.C. flea market, came across the entire trove. Hadar had the insight to recognize that what he had found was important, and he set about finding the artist.
EL: Of all the elements in the collection, from record jackets to liner notes, is there one piece that you find especially compelling?
LU: One early album contains a photograph of the artist as a young man. He appears as a starry-eyed dreamer, full of innocence and hope. It's a potent encapsulation of what the project meant to him.
EL: The time period, mid-sixties to mid-seventies, is rich in history and tragedy for the nation as well as the nation's capital. Does this collection mirror the times, or is Mingering Mike an isolated artist who let the world in, selectively?
LU: It was an intense time for the country. Kids in some of D.C.'s inner-city neighborhoods were witness to protests and passionate conflicts. Mingering Mike's work does indeed mirror the times: he ruminates on the challenges of his generation, in his city, and aspires to a creative plane that will rise above it all.
EL: From a private collection to a storage unit to a flea market, and now the Smithsonian American Art Museum. This is quite a trajectory for Mingering Mike. Can you comment on the museum's decision to acquire this work?
LU: The American experience is conveyed most vividly through art. The American Art Museum recognized that this body of work told an important American story, one that many people can find themselves in. This collection reflects and describes a cross section of our shared cultural heritage through the lens of individual experience; it's something worth preserving and sharing.
EL: Apparently, Mingering Mike wishes to remain anonymous. What would you ask him if you could meet him?
LU: Those of us closely involved with the project have actually gotten to know Mingering Mike and been able to talk to him at length about his art and his memories. Mike describes himself as shy—too shy to actively pursue a true music career when he was younger and still not comfortable with taking on a public persona. While real fame may not be Mingering Mike's cup of tea, working directly with the artist is going be an extremely valuable component of the project.
Highlights from the Mingering Mike Collection will go on view at American Art in 2015. For additional information about his work visit his website.