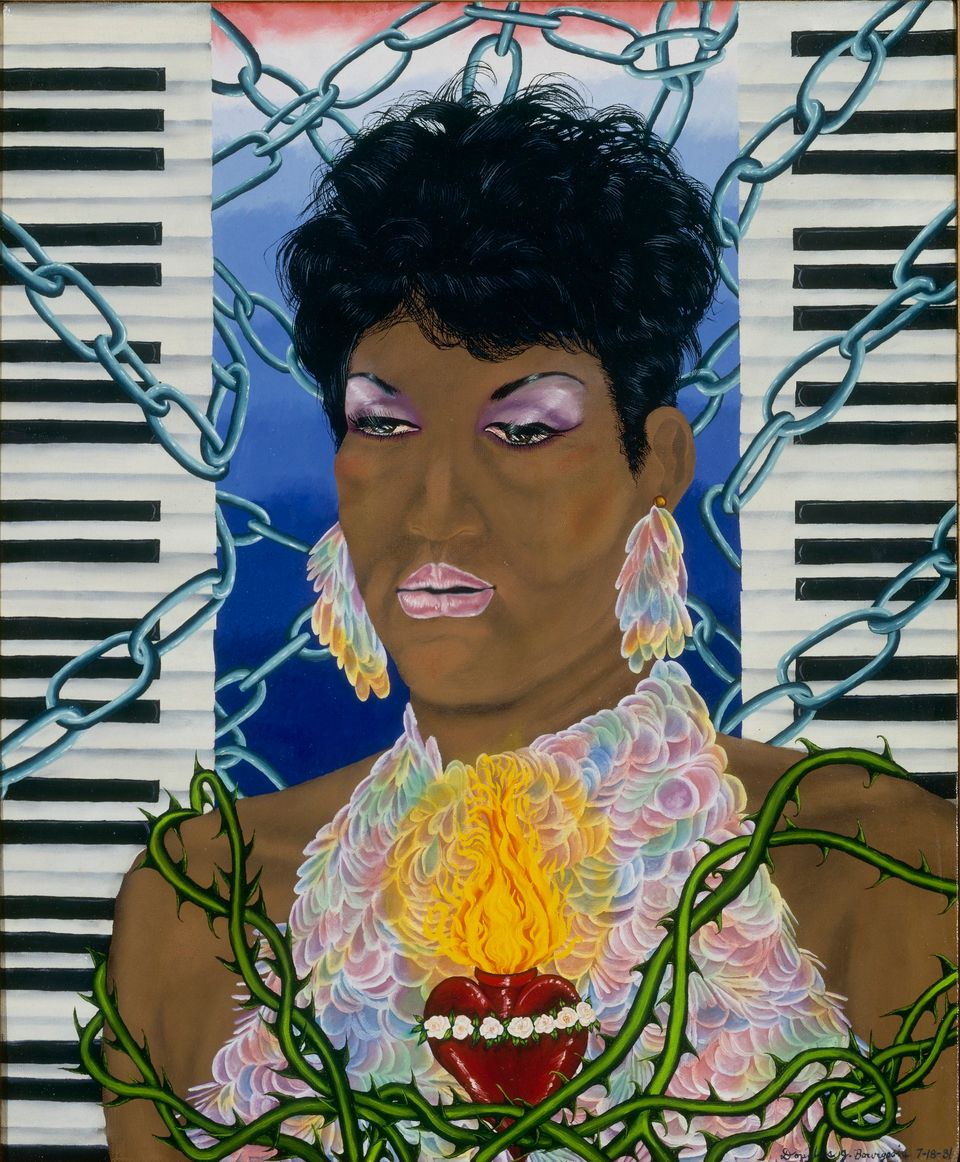 Growing from a child whose voice rang out singing Gospel music in church to a celebrated singer and songwriter, Aretha Franklin was a force and an icon. Her portrait by Douglas Bourgeois, Aretha: Mysterious Lady of Sorrows, shows a striking woman surrounded by symbols and references to her life and music: chains, keyboards, thorns, a Sacred Heart. As the New York Times describes in her obituary, Aretha Franklin and the hits she sang so powerfully "...defined a modern female archetype: sensual and strong, long-suffering but ultimately indomitable, loving but not to be taken for granted."
As news spread that the Aretha Franklin was ailing, we began to talk about this strong woman—this American icon—and, as often happens at SAAM, our attention turned to art. And so, we pay homage to the "Queen of Soul" with some of our favorite lyrics paired with the artworks that bring to life the words in her powerful songs.
Chiura Obata, Passing Rain, 1930
Because: Looking out on the morning rain 
I used to feel so uninspired 
And when I knew I had to face another day  
Lord, it made me feel so tired  
"(You Make Me Feel Like) A Natural Woman"
David Driskell, Dancing Angel, 1974
Ooo, your kisses 
Sweeter than honey
And guess what?
So is my money
All I want you to do for me
Is give it to me when you get home
Unidentified, Large Chain Whimsy, n.d.
Chain, chain, chain
(Chain, chain, chain
Chain of fools)
Every chain, has got a weak link
I might be weak child, but I'll give you strength
William H. Johnson, Little Sweet, 1944
Though you don't call anymore 
I sit and wait in vain 
I guess, I'll rap on your door 
"Until You Come Back to Me (That's What I'm Gonna Do)"
Paul Albert Baudouin, Female Figure Dressing Hair, n.d.
While combing my hair now 
And wondering what dress to wear now 
I say a little prayer for you 
Loïs Mailou Jones, Moon Masque, 1971
When you're down and out
When you're on the street
When evening falls so hard
I will comfort you
I'll take your part
Oh when darkness comes
And pain is all, is all around