Artist
Georgia O'Keeffe
born Sun Prairie, WI 1887-died Santa Fe, NM 1986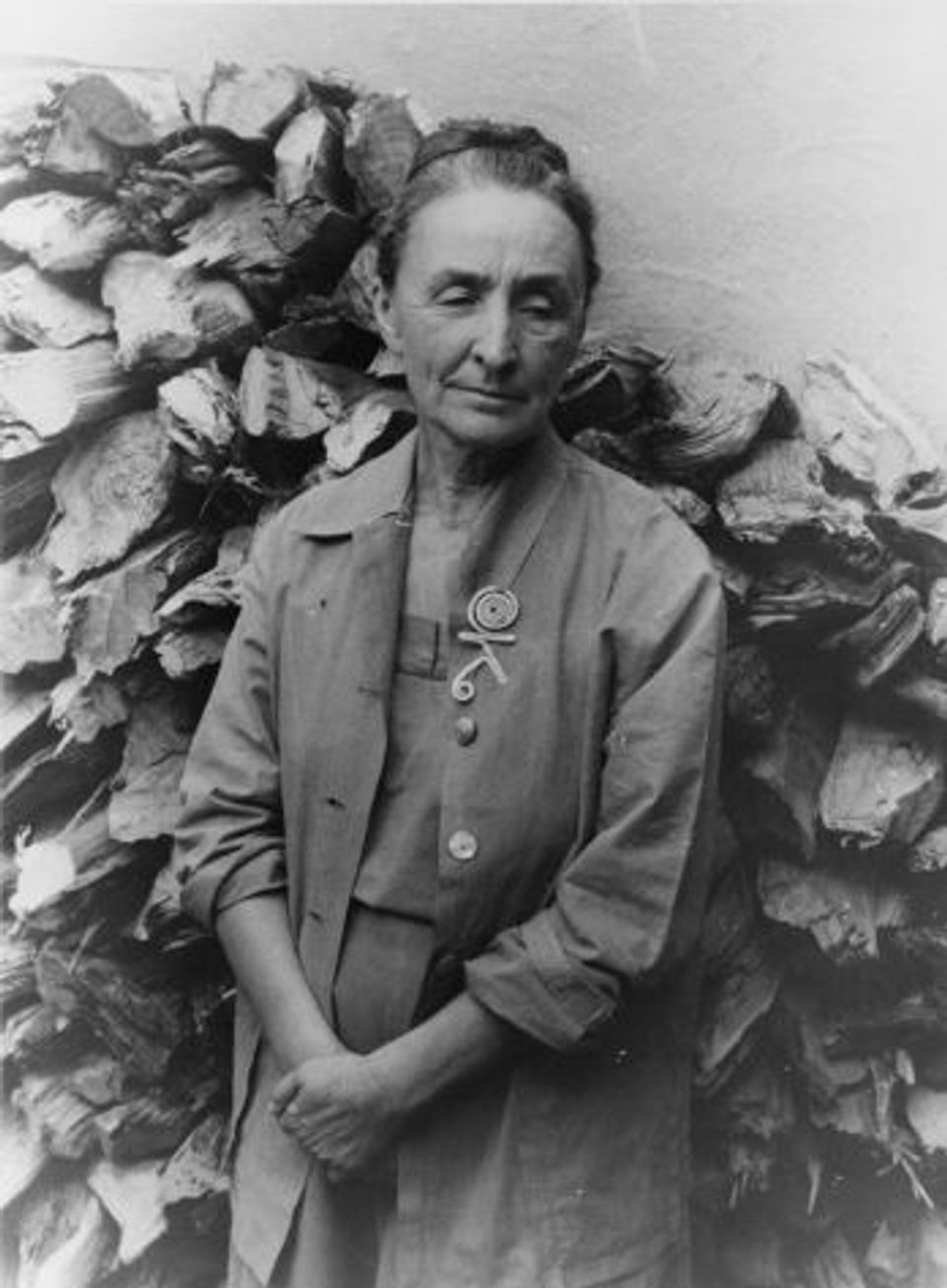 Active in

Abiquiu, New Mexico, United States
New York, New York, United States
Biography
Painter. From her birthplace in Sun Prairie, Wisconsin, O'Keeffe's world expanded in stages: she studied at the Art Institute of Chicago, then with William Merritt Chase at the Art Students League in 1907, and finally with Arthur Dow at Columbia University from 1914 to 1915. From 1912 to 1918, she taught art in South Carolina and Texas; her summer vacations included travel and a first visit to New Mexico in 1917. In 1916 Alfred Stieglitz exhibited her work and began his life-long dedication to and sponsorship of her art. Until 1924, the year of her marriage to Stieglitz, O'Keeffe's drawings and paintings in watercolor and oil were frequently abstract. But her artistic language broadened to include representational subjects, usually taken from nature and often painted in series. Visiting Taos in 1929 as the guest of Mabel Dodge Luhan, O'Keeffe discovered new interpretations of light and shadow and began to extract and simplify the monumental natural forms and architecture of the Southwest. Long a summer visitor, O'Keeffe became a New Mexico resident in 1949. Within the disciplined forms of her southwestern subjects—bones, buildings, hills, flowers, and crosses—she evolved a highly personal style.
Charles Eldredge, Julie Schimmel, and William H. Truettner Art in New Mexico, 1900–1945: Paths to Taos and Santa Fe (Washington, DC: National Museum of American Art, Smithsonian Institution, 1986)
Artist Biography
Georgia O'Keeffe was born near Sun Prairie, Wisconsin, in 1887. During her teens and early adulthood, O'Keeffe lived in Virginia, Chicago, and New York. She studied with John Vanderpoel at the Art Institute of Chicago, with William Merritt Chase at the Art Students League of New York, and with Arthur Wesley Dow at Columbia University of New York. O'Keeffe taught at Columbia College (South Carolina), at University of Virginia, and at West Texas State Normal School. Her first important exhibition was in 1917 at 291 gallery, which was run by photographer Alfred Stieglitz, whom O'Keeffe would later marry. She lived and worked in New York beginning in 1918, and began spending summers in New Mexico in 1929. In 1949, O'Keeffe moved to New Mexico to live year-round.
O'Keeffe received a commission from Cheney Brothers, a silk company, but she later expressed reservations toward commercial art; in 1924, O'Keeffe wrote to her sister Catherine: "You see I tried commercial Art. … I was a failure. … And I tried doing other foolish forms of commercial Art—I could make a living at it … but it wasn't worth the price. … Always thinking for a foolish idea for a foolish place didn't appeal to me for a steady diet—so I gambled on this foolish business of painting—and here I am at it."
O'Keeffe's husband and major promoter, Alfred Stieglitz, discouraged the reproduction of her works for fear that the paintings would be compromised. Nevertheless, O'Keeffe's art has frequently been used successfully on posters, most notably for the Santa Fe Chamber Music Festival. Since its first year in 1973, the festival has used a reproduction of an O'Keeffe painting, with her permission, and sold the poster nationally. With the crisp lines, rich colors, and abstracted, simple shapes characteristic of her paintings, O'Keeffe's art lends itself well to use on posters.
Therese Thau Heyman Posters American Style (New York and Washington, D.C.: Harry N. Abrams, Inc., in association with the National Museum of American Art, 1998)
Luce Artist Biography
One of the pioneers of American modernism, Georgia O'Keeffe was a member of Alfred Stieglitz's circle of progressive artists who made it their mission to create a new and distinctly American art. She was one of the few women in the group and, to her frustration, contemporary critics often highlighted the ability of her work to express "femaleness." In 1922 she complained that critics "make me seem like some strange unearthly sort of creature floating in the air---breathing in clouds for nourishment---when the truth is that I like beef steak---and like it rare at that." (Corn, The Great American Thing, 1999) Born in Wisconsin, she studied at the Art Institute of Chicago and later at the Art Students League in New York. She married photographer Alfred Stieglitz in 1924, and during a long career created images of cityscapes, abstractions, landscapes, and her celebrated flower paintings. She taught for four years in Texas, where the wide-open spaces profoundly affected her art. In 1929 she started spending months at a time in New Mexico, telling friends in New York that "I never feel at home in the East the way I do out here . . . I feel like myself---and I like it." After Stieglitz died, O'Keeffe settled in New Mexico and created haunting images of sun-bleached bones, clouds, and mesas. She was a true "Santa Fe character," dressed severely in black or white, with her long dark hair pulled tightly back.