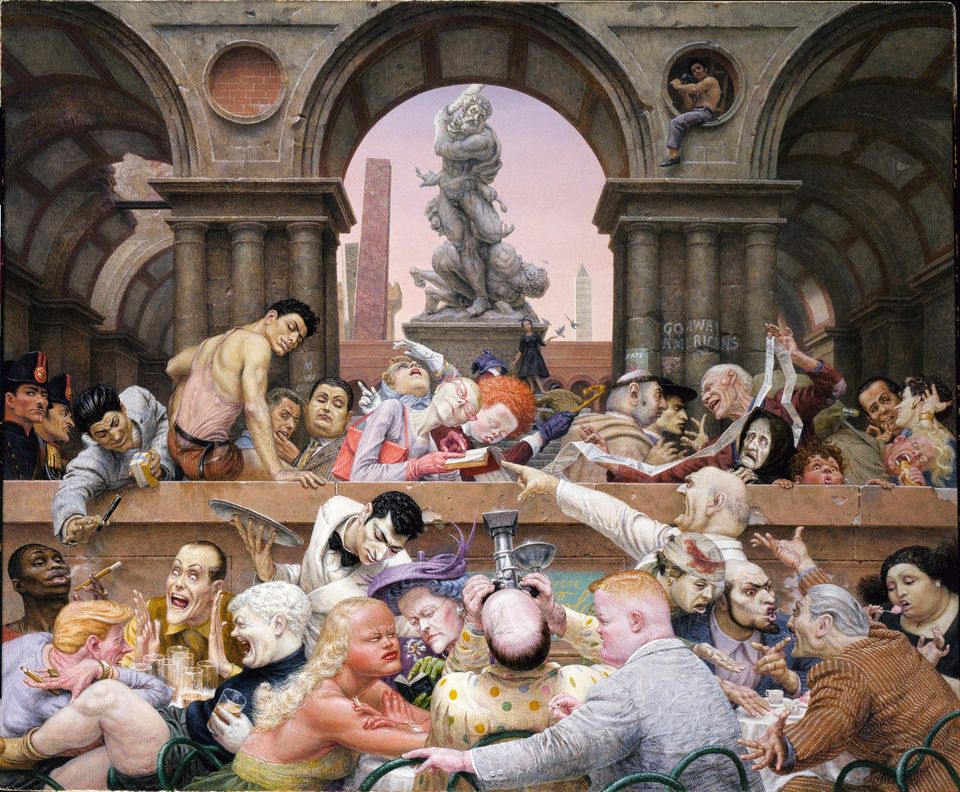 Copied
Paul Cadmus,
Bar Italia
, 1953-1955, tempera on wood,
37
1
⁄
2
x
45
1
⁄
4
in. (
95
.
2
x
115
.
0
cm), Smithsonian American Art Museum, Gift of S.C. Johnson
&
Son, Inc., 1969.47.54
Title

Bar Italia

Artist

Dimensions

37

1

⁄

2

x

45

1

⁄

4

in. (

95

.

2

x

115

.

0

cm)

Credit Line

Gift of S.C. Johnson

&

Son, Inc.

Mediums

Mediums Description

tempera on wood

Classifications

Keywords

Italian
Monument — statue
Figure group
Recreation — leisure — smoking
Architecture Exterior — classical

Object Number

1969.47.54
Paul Cadmus lived and worked in Italy in the early 1950s. Bar Italia satirizes the crowds of tourists in Europe during the postwar years, when Americans alone had the money to visit a continent devastated by the Second World War. A crowd of people fills an imaginary square cobbled together from different Italian cities. The sidewalk café offers a full range of characters, including argumentative Italians, pudgy clerics, hustlers, old widowed crones, and a group of what the artist called "rather outrageous" gay men. Cadmus also painted himself into the image, quietly taking in the boisterous scene from just beyond a young Italian perched on the wall. (Kirstein, Paul Cadmus, 1992) In the background a large marble monument parodies Italy's decrepit architectural treasures, currently under repair at the hands of a stonemason at the top right. Cadmus's moony, prying tourists, who scan the sky for masterpieces and search phrase books for "Where is the restroom," say it all. But he included a final indignity: Just to the right of the painting's center, graffiti on the wall spell out "Go Away Americans."
Luce Object Quote
"Bar Italia was a sort of synthesis of all I knew about Italy . . . I assembled a rather large cast of characters, exposing the worst of everything I could think of." The artist, quoted in Kirstein, Paul Cadmus, 1992