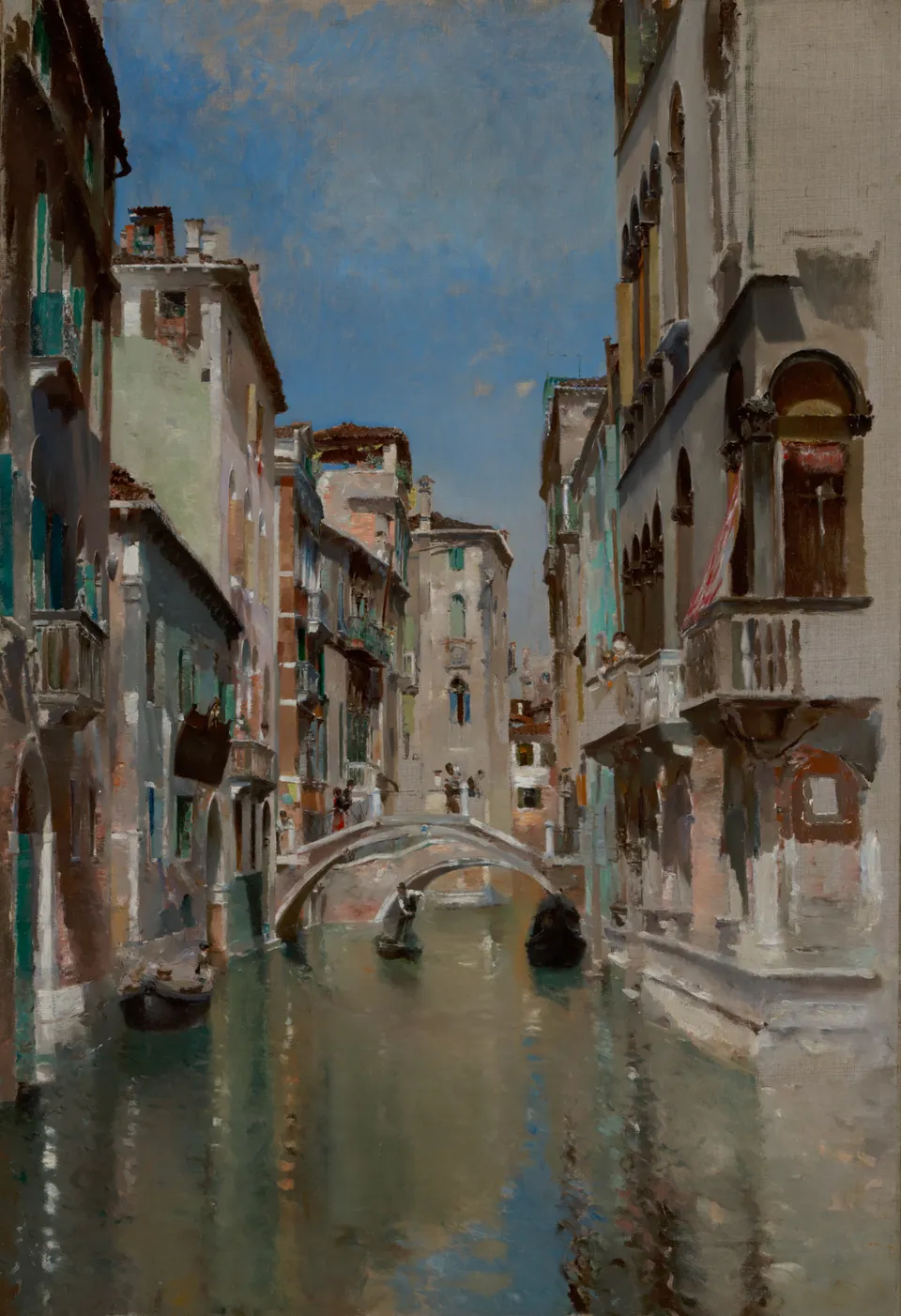 Copied
Robert Frederick Blum,
Canal in Venice, San Trovaso Quarter
, ca. 1885, oil on canvas,
34
x
23
1
⁄
8
in. (
86
.
5
x
58
.
6
cm), Smithsonian American Art Museum, Gift of William T. Evans, 1909.7.7
Title

Canal in Venice, San Trovaso Quarter

Artist

Dimensions

34

x

23

1

⁄

8

in. (

86

.

5

x

58

.

6

cm)

Credit Line

Gift of William T. Evans

Mediums

Mediums Description

oil on canvas

Classifications

Keywords

Waterscape — canal
Architecture — bridge
Cityscape — Italy — Venice
Cityscape — street — San Trovaso Quarter
Architecture Exterior — domestic — apartment

Object Number

1909.7.7
In repeated visits to Venice in the 1880s, Blum became one of the most careful American observers of its architecture, inhabitants, customs, and colors. This picture combines all of these elements for a view of a quiet canal in the southern Dorsoduro neighborhood. In the center, a solitary boatman propels his sandolo, a traditional Venetian watercraft akin to a gondola, but smaller, shallower, and less ornate in decoration. Sandoli were easier to navigate than gondolas, and some visiting artists, including women, rented their own for exploring Venice's labyrinth of canals.
Sargent, Whistler, and Venetian Glass: American Artists and the Magic of Murano, 2021.
Luce Center Label
In this piece, Robert Blum positioned the viewer as though he were looking down a narrow Venetian canal from a boat on the water. The view shows the Rio Ogni Santi (River of All Saints), in the San Trovaso Quarter, where Blum lived for a time. He spent many summers and winters in Venice, and his sketches, pastels, and paintings capture the city's bright colors and hodgepodge of buildings. In the center of the waterway a man steers a
sandolo
, which is a smaller, lighter version of a gondola.