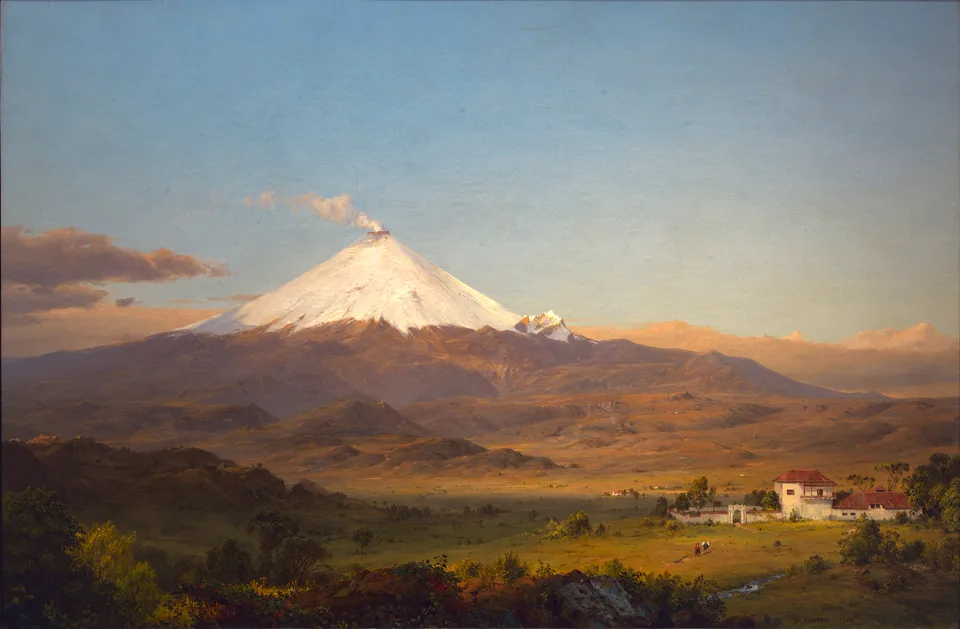 Copied
Frederic Edwin Church,
Cotopaxi
, 1855, oil on canvas,
28
x
42
in. (
71
.
1
x
106
.
8
cm), Smithsonian American Art Museum, Gift of Mrs. Frank R. McCoy, 1965.12
Title

Cotopaxi

Artist

Location

Dimensions

28

x

42

in. (

71

.

1

x

106

.

8

cm)

Markings

lower right in oil: F. CHURCH--1855.

Credit Line

Gift of Mrs. Frank R. McCoy

Mediums

Mediums Description

oil on canvas

Classifications

Keywords

Landscape
Landscape — phenomenon — volcano
Landscape — tropic
Landscape — mountain — Mount Cotopaxi
Landscape — Ecuador
Architecture Exterior — domestic — house

Object Number

1965.12
Frederic Church was an ambitious painter and enthusiastic amateur scientist. He had read Darwin's books and Alexander von Humboldt's descriptions of Cotopaxi,"the most dreadful volcano...its explosions most frequent and disastrous."The fabled Ecuadorian mountain provided both a poetic symbol of God's creation and an exciting window into the planet's natural history. Geology was a new science in the nineteenth century, and Church was among those who believed that volcanoes offered clues to the age and origins of the earth.
On his first visit to Ecuador, the artist waited an entire day near the hacienda pictured here, hoping that the clouds would part to reveal the peak. American critics complained that Church's paintings of the volcano did not capture the soft atmospheric haze that they were used to seeing in landscapes. Those who had never traveled to the high country of the Andes did not understand that in the thin, clear air, Cotopaxi's icy flanks gleamed just as Church had painted them.
Exhibition Label, Smithsonian American Art Museum, 2006