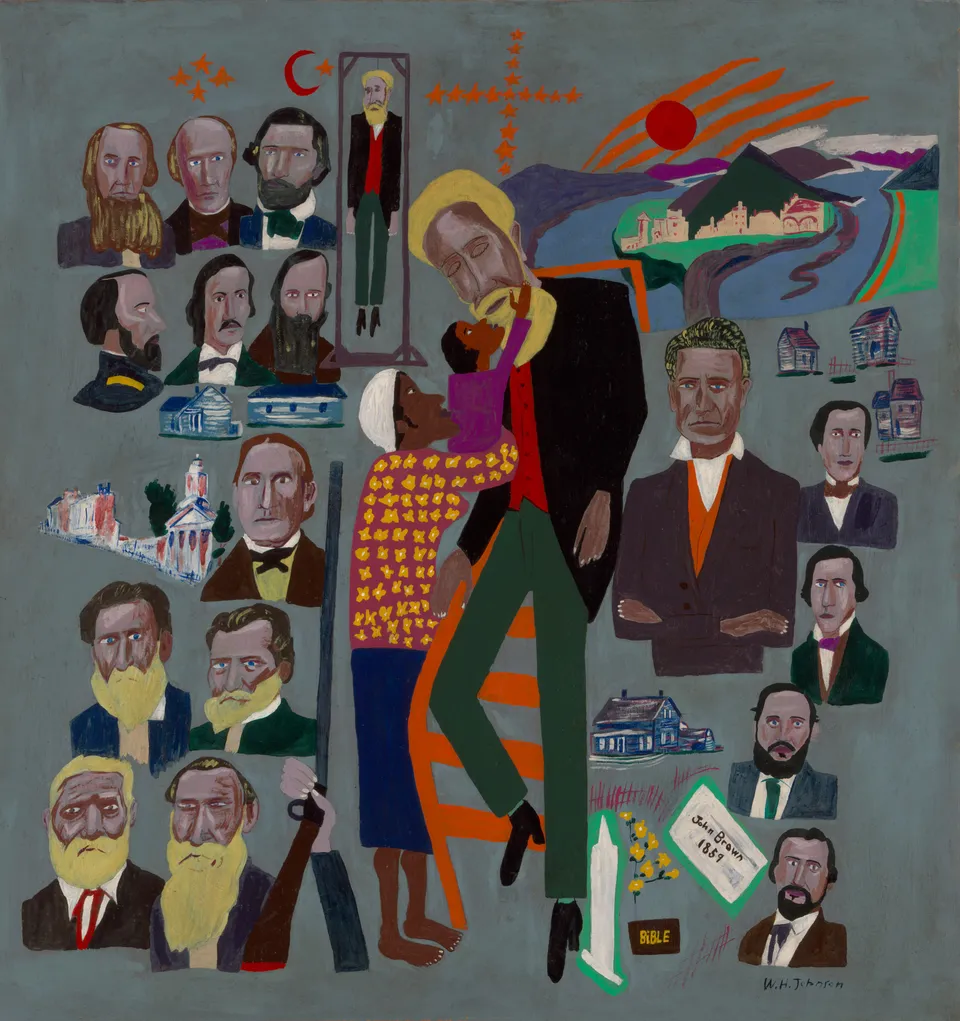 Copied
William H. Johnson,
John Brown Legend
, ca. 1945, oil on paperboard,
38
5
⁄
8
x
36
1
⁄
4
in. (
98
.
2
x
92
.
2
cm), Smithsonian American Art Museum, Gift of the Harmon Foundation, 1967.59.1145
Title

John Brown Legend

Artist

Dimensions

38

5

⁄

8

x

36

1

⁄

4

in. (

98

.

2

x

92

.

2

cm)

Markings

lower right in black oil: W.H. Johnson back in upper left center in black grease crayon: PR-140 back upper center in white chalk: 36 x 39 back center in white chalk: PR-140 (written sideways)

Credit Line

Gift of the Harmon Foundation

Mediums

Mediums Description

oil on paperboard

Keywords

Group
Figure group
Landscape — building
African American
History — United States — Black History
State of being — death — execution
Portrait male — Brown, John

Object Number

1967.59.1145
Tensions between Northern and Southern states were already high over the issue of slavery when John Brown's raid on Harper's Ferry electrified the United States in 1859. The failure of this white abolitionist's revolt deepened the divide. On Sunday night, October 16, Brown (1800--1859) led eighteen men to Harper's Ferry (now in West Virginia), the site of a major armory and railroad junction below the Mason-Dixon Line. As the men secured key locations and took slaveowners prisoner, local militias prepared to fight back. Brown and his compatriots had expected hundreds of enslaved people from the surrounding area to join the abolitionist cause, but few did. Two of the raiders escaped; those captured alive were convicted of treason and sentenced to hang.
Johnson showed Brown, whose hair resembles a halo, being kissed by an African American child. The vignette is based on a story circulated after his execution that Brown paused on his way to the gallows to kiss an enslaved child. Johnson surrounded Brown with portraits of other abolitionists, Brown's fellow raiders, and sympathizers. A landscape in the upper right represents Harper's Ferry; the rifle to his right symbolizes Brown's plan to arm the enslaved.