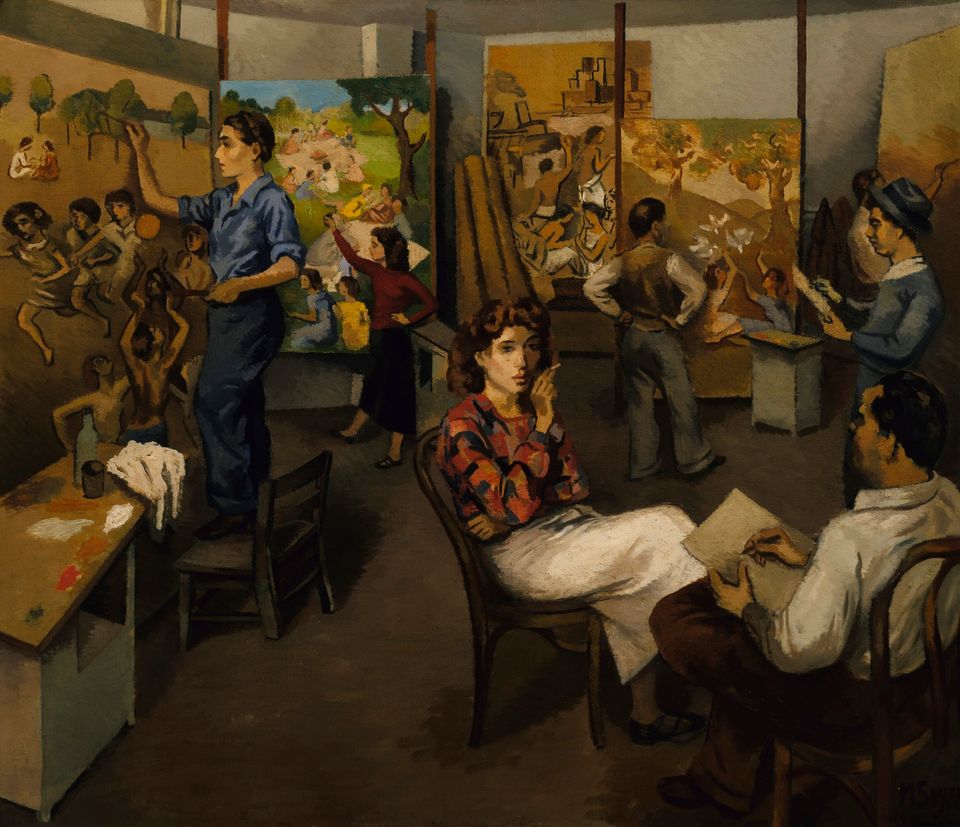 Biographical dictionaries provide vital statistics, including life dates; locations of birth, death, and activity; school affiliations including where the artist studied or taught; and memberships in artistic clubs or societies such as the National Academy of Design.
If you know the artist's name, consult biographical dictionaries to learn some basic, but important facts about the artist. Often, these publications are organized by regions (e.g., Dictionary of New Orleans Artists), by subject (e.g., Dictionary of Marine Artists), by media (e.g., Dictionary of Western Sculptors in Bronze), or by time periods (e.g., Handbook of 17th-, 18th- and 19th-Century American Painters). Please see our Appendix: Want to Learn More? for a comprehensive bibliography.
Some dictionaries also provide variant spellings of the artist's name, information on when and where the artist exhibited, or list the whereabouts of the artist's major works. Because an artist might be listed in more than one dictionary, checking several might help you develop a greater understanding of the artist.
Dictionaries of American Artists
We recommend consulting the following dictionaries of American artists.
Falk, Peter Hastings, ed. Who Was Who in American Art. Madison, Conn.: Sound View Press, 1999.
Groce, George C., and David H. Wallace, eds. The New-York Historical Society's Dictionary of Artists in America, 1564–1860. New Haven: Yale University Press, 1957.
Havlice, Patrice Pate, ed. Index to Artistic Biography. Metuchen, N.J.: Scarecrow Press, 1981–.
Igoe, Lynn Moody, and James Igoe. 250 Years of Afro-American Art: An Annotated Bibliography. New York: R.R. Bowker, 1991.
Optiz, Glenn B., ed. Dictionary of American Sculptors: 18th Century to the Present. Poughkeepsie, N.Y.: Apollo Book, 1984.
Optiz, Glenn B., ed. Mantle Fielding's Dictionary of American Painters, Sculptors, and Engravers. Poughkeepsie, N.Y.: Apollo Book, 1983.
Dictionaries of International Artists
If the artist you're researching is not listed in the sources above, check more comprehensive international dictionaries. Plus, see our bibliography section in the Appendix: Want to Learn More? which lists some specialized dictionaries that group artists by region or media.
Allgemeines Künstlerlexikon. Munich: K.G. Saur, 1992–.
Benezit, E., ed. Dictionary of Artists. Paris: Gründ, 2006.
Mallet's Index of Artists, International-Biographical, Including Painters, Sculptors, Illustrators, Engravers and Etchers of the Past and Present. New York: Peter Smith, 1948.
Petteys, Chris, ed. Dictionary of Women Artists: An International Dictionary of Women Artists Born Before 1900. Boston: G.K. Hall, 1985.
Thieme-Becker, ed. Allgemeines Lexikon der bildenden Künstler. Leipzig: Verlag Von Wilhelm Engelmann, 1907–1913.
Sources for Contemporary Artists
Contemporary artists are often more difficult to research. Do not give up too quickly though. Many contemporary artists have personal websites. Try entering the artist's name in an Internet search engine such as Google or Yahoo.
If the artist does not have a website you still may discover a press release from an exhibition or a newspaper or magazine article. When you've exhausted online resources, consider the following printed materials:
Dictionary of Contemporary American Artists. Ed. Paul Cummings. New York: St. Martins Press, 1994.
New York Public Library: The Artists File (microfiche). Alexandria, Va.: Chadwyck-Healy, Inc., 1987–1989.
Who's Who in American Art. New Providence, N.J.: R. R. Bowker, annual.
Online Artist Biographies
There are surprisingly few comprehensive online sources for artist biographical information. Try these art specific sources.
The Getty Research Institute maintains the Union List of Artist Names at http://www.getty.edu/research/tools/vocabularies/ulan/index.html.
While this online database does not always include biographies, the index does supply the artist's name, variant spellings, life dates, nationality, and related bibliographic citations.
Some larger biography sites reference major artists.