Luce Unplugged is celebrating ten years of jamming out and highlighting the very best in music coming out of the DMV. Launched in 2010, the program started as an opportunity for local musicians to find connections to an artwork in SAAM's collection and then talk about it with museum staff before performing in the museum's Luce Foundation Center. Today this music series has grown to be a favorite venue for emerging and established local artists alike. Luce Unplugged is a series for everyone from local music diehards looking to discover all that DC's creative scene has to offer to families hoping to inspire the next generation of musicians and fans. Let's celebrate ten years of incredible music and art with special programming, performances, coloring pages, and more!  
The Story of Luce Unplugged
Ten years ago, we had an idea... What if local music could exist side by side with the amazing artworks in the Smithsonian American Art Museum's national collection? What if we could spend the evening jamming out to the best independent music in the DMV while also enjoying a painting by Gene Davis or a sculpture by Edmonia Lewis? This idea became a reality in November of 2010 when Star FK Radium took the stage in our first ever Luce Unplugged concert. At first, we really were "unplugged." Concerts were an un-miced, low-key affair. Artists like Carolyn Malachi, Janel & Anthony, and Laughing Man stopped by to play a set and choose an object from our collection for a special art talk.
Over time our audience and our equipment collection grew. In 2012, we partnered with WashingtonCityPaper for the first time. With their support, we began to host Luce Unplugged Community Showcases, a quarterly concert series featuring several acts and tastings provided by local craft alcohol producers.
Ten years later and still going strong, Luce Unplugged has made more friends, and we are grateful to all of our partners, past and present, including Washington City Paper, D.C. Music Download, and Hometown Sounds for their wisdom, enthusiasm, and flawless musical taste. We've met amazing musicians, photographers, sound engineers, dancers, and many others who make up this city's vibrant creative community. We've enjoyed watching people that call DC home get to know the Smithsonian American Art Museum and people from all over the U.S. and the world get a taste of what DC has to offer.
We can't wait to see what the next ten years bring!
Listen to Local Artists with Washington City Paper
In 2012, Washington City Paper and the Smithsonian American Art Museum kicked off the first Luce Unplugged Community Showcase with a lineup featuring Kokayi, The Caribbean, and Alex Minoff. Since then, we have welcomed around 70 artists to perform and celebrate all that DC's independent music scene has to offer. Listen to some of the greatest hits with a specially curated playlist of songs from past Luce Unplugged performers created by Emma Sarappo, Washington City Paper's arts editor.   
Create Your Own Colorful Concert with Photographer Farrah Skeiky
Get creative and enjoy a series of coloring pages from talented DC photographer Farrah Skeiky.
Farrah has a passion for independent music! In 2019, she published Present Tense, a portfolio of photos dedicated to punk as a living and breathing force in DC. Her photographs document punk, hardcore, and DIY bands as they perform in traditional venues, dive bars, basements, warehouses, churches, galleries, living rooms, restaurants, and even a neighborhood grocery store. She has also transformed some of her favorite photos into a coloring book that brings the joy of attending a concert to you, wherever you happen to be.
To celebrate ten years of Luce Unplugged, we asked Farrah to create three special edition coloring pages featuring artists who have performed in the Luce Foundation Center. Print these pages or use your favorite coloring app to bring these works to life!
Connect with Your Local Music Community
SAAM's Luce Foundation Center has teamed up with PaulVodra and Anthony Porreco, hosts of local music podcast Hometown Sounds, to bring you music from your favorite DC artists. Tune in each month for a new episode featuring local tunes and conversations about creative life in DC.
Girls Rock! DC is collective that creates equitable spaces for girls and nonbinary youth to express themselves and bolster a passion for social change. Noel Schroeder and Shady Rose, co-executive directors, led SAAM visitors in a collaborative songwriting session.
On Friday, October 1, 2021, SAAM presented a virtual panel discussion celebrating the tenth anniversary of the popular local music series Luce Unplugged.
Led by Cynthia "C.J." Johnson and Andy Valenti, Oh He Dead embodies the innovation and independent spirit that we love from DC's vibrant music scene. Jam out as the band combines classic R&B influences with poignant lyrics, and celebrate a decade of music at SAAM.
Look Back in Time with Our Concert Photo Gallery
Are you feeling as nostalgic as we are? Step into our time machine and view photos from past Luce Unplugged concerts.
Learn More About the Featured Artists of Luce Unplugged
Singer-songwriter, Jenna Camille, discusses how her creative motivations evolved in the year 2020.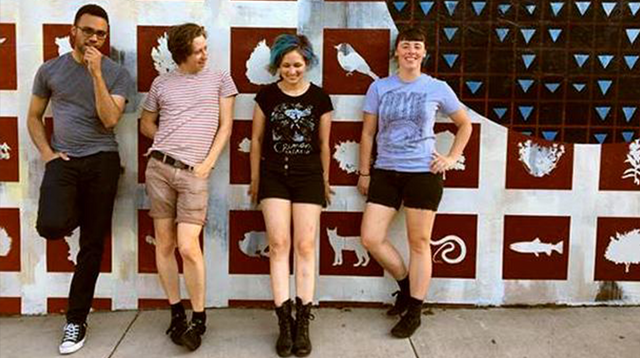 Power pop quartet, Bad Moves, talks inspiration, collaboration, and how to stop dreaming and start playing.
Watch Past Performances
Relive past Luce Unplugged performances with artists like Carolyn Machi, Laughing Man, Pleasure Curses, and Luray with our YouTube playlist.