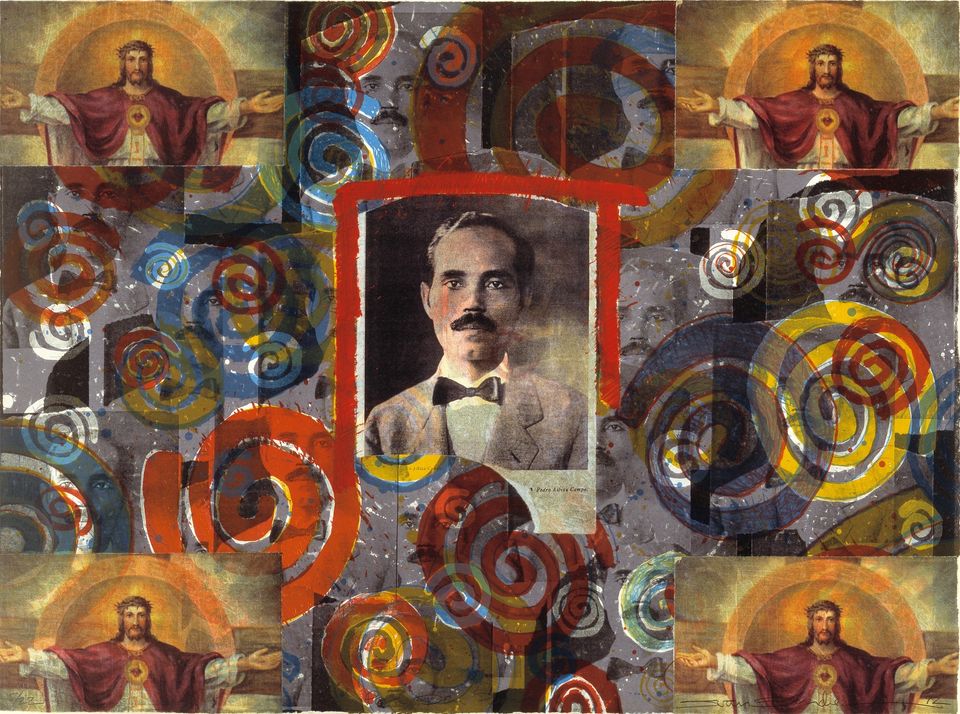 Juan Sánchez, Para Don Pedro, 1992, lithograph, photolithograph and collage with additions in oil stick and pencil, Smithsonian American Art Museum, Museum purchase through the Julia D. Strong Endowment, 1998.97, © 1992, Juan Sánchez
News of a hurricane brewing in the Caribbean is always a cause for concern in my household. As a Dominican American, I have many relatives in the Dominican Republic where hurricanes are frequent threats. In the summer of 2017, I tracked news of a major weather event—Hurricane María—which luckily did not seriously impact the Dominican Republic but which was catastrophic in Puerto Rico. As I watched and read news reports about towns without running water and electricity, property damage, scarce resources, and sadly the stark human toll of lost lives, I strangely processed the impact of the hurricane though the lens of SAAM's collection.
SAAM owns one of the largest collections of Latinx art of any nationally-specific U.S. museum. This collection includes many works by Puerto Rican artists from the island and the diaspora. Our Puerto Rican holdings are rich and trans-historical. They include religious art from the Spanish colonial period and key works by Nuyorican artists like Marcos Dimas and Juan Sánchez, who came of age during and after the civil rights era in New York City. We own works by the late Myrna Báez, the celebrated educator, printmaker and painter whose landscapes evoke that geography and climate of Puerto Rico, as well important mid-career artists like Miguel Luciano, whose be-jeweled sculpture Pure Plantainum considers how Caribbean cultural symbols are redefined in the diaspora.
As I heard and read news of the hurricane's aftermath, what struck me were the names of towns—Utuado, Ponce, Santurce, Cajo Rojo, Santa Isabel, and of course San Juan. Each of these towns is connected to artists in our collection. Photographer and video artist Adál Maldonado, who relocated to San Juan in 2010 after a long career in New York City, was born in Utuado. Marcos Dimas, mentioned above, is from Cabo Rojo. Myra Báez and master printmaker Antonio Martorell, are from Santurce.
I also remembered the late Teodoro Vidal, who in 1996 gifted his historic collection of Puerto Rican colonial art to SAAM, and his and collection of Puerto Rican material culture to the Smithsonian's National Museum of American History. His collection, including religious paintings and portraits by the Afro-Puerto Rican painter José Campeche, are currently on display in SAAM's New Spain gallery and in our Luce Foundation Center for American Art. Mr. Vidal donated his holdings to the Smithsonian because he wanted Americans in the continental United States to learn about and appreciate Puerto Rican history and culture. He entrusted the Smithsonian to care and interpret his collection, which he passionately amassed over decades.
I believe our position as a national museum and repository of Puerto Rican culture endows us with a special responsibility to assist Puerto Rico and Puerto Ricans in their time of need. This is why when we heard that nearly two years after Hurricane María Puerto Rican museums and archives were still assessing damage, we knew we had to help. SAAM is fortunate to have talented and dedicated conservators in our Lunder Conservator Center. This past summer, chief of conservation Amber Kerr and paintings conservator Gwen Manthey traveled to Puerto Rico over two weeks and reviewed paintings damaged by the hurricane and recommended a course for treatment. In an upcoming post, they detail their experiences and collaboration with Puerto Rican colleagues. I am deeply grateful for their expertise that allowed SAAM to assist in Puerto Rico's on-going recovery after Hurricane María.
Read more about Teodoro Vidal's fascinating life and work on our blog.