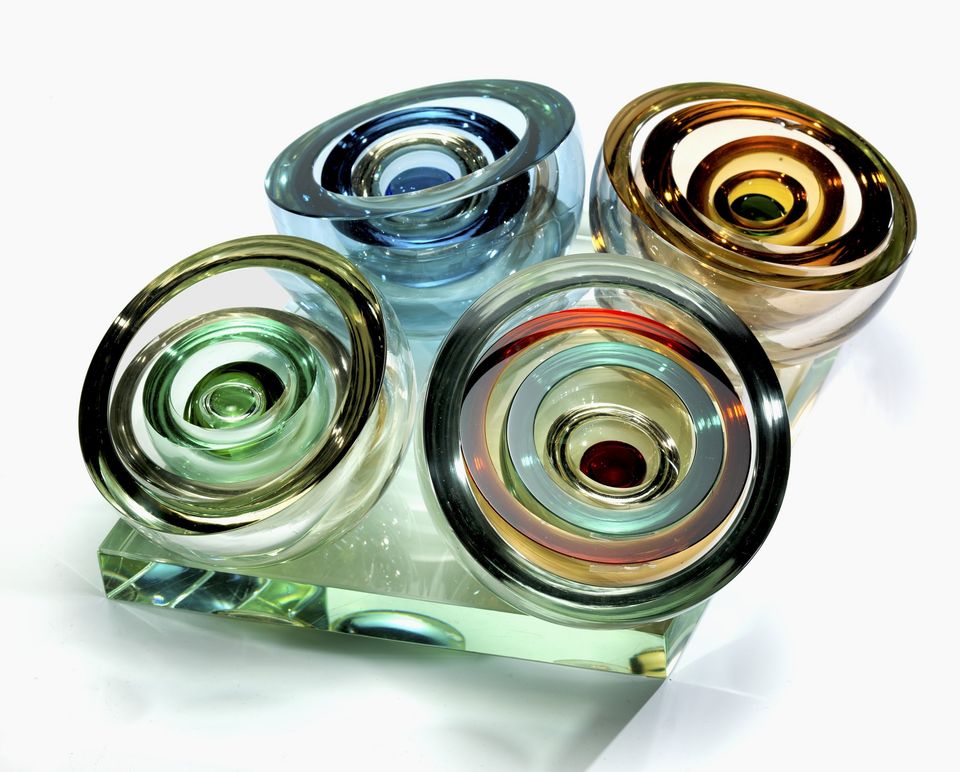 Harvey K. Littleton, Four Seasons, 1977, glass, Smithsonian American Art Museum, Gift of Paul and Elmerina Parkman, 1991.172A-P, © 1977, Harvey K. Littleton
Fifty years ago, astronauts walked on the moon, the war raged in Vietnam, Richard Nixon took office, and not too far away from the White House, OBJECTS: USA opened at the Smithsonian American Art Museum. The exhibition was one of the most ambitious craft exhibitions to be mounted to date when it debuted in 1969. It featured more than 500 artworks by 308 artists and traveled to venues across the United States and Europe before the works found homes in permanent collections around the US, including right here at SAAM. In honor of its 50th anniversary, here are 50 of the most compelling things about this exhibition (in no particular order) and why you should consider coming to the symposium on July 19 to explore the impact it had at the time and how the issues raised by the exhibition still resonate today.
1. Is craft art? 
3. Legit Macrame
4. Good Housekeeping write-ups
6. Dale Chihuly before he was "Dale Chihuly"
8. Zeitgeist
9. Richard Shaw
10. Conversations
11. Dropout Generation
12. Housewives
13. Of its time
14. Timeless
15. Influential
16. Up-and-comers
17. Hot dogs
18. Meet Art
19. Post-modernism
20. Compelling
21. Run, Don't Walk
22. Smithsonian opening
23. Clamoring
24. S C Johnson Wax
25. Enamel
26. Ceramic
27. Glass
28. Metal
29. Jewelry
30. Plastic
31. Mosaic
32. Wood
33. Fiber
34. Objects
35. Not Handicrafts
36. Provoking
37. Changing the national aesthetic
38. Playful
39. Heartbreaking
40. Funny
41. Inventive
42. Original cliché
43. G.I. Bill
45. Wendell Castle
46. Jewelry that you could wear
47. American Craft Council
48. Traveling
49. Lenore Tawney
50. Craft is Art
Want to learn more?
Join us on Friday, July 19, from 3 to 6 p.m. for the symposium, OBJECTS: USA at 50. It features scholars, artists, and curators who will discuss the importance and legacy of the groundbreaking studio craft exhibition, OBJECTS: USA. If you cannot attend in person, tune in to the webcast.